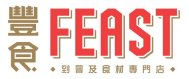 GOOD FOOD IS THE FOUNDATION OF HAPPINESS" - Auguste Escoffier
Creating happiness is at the core of everything we do. At FEAST, we believe that good food puts people in a good mood, which helps to create happy memories
FEAST was founded by Tony Cheng in 2016 because he wanted his family and friends to enjoy the best Turkey during Christmas. The year before, Tony ordered a turkey to celebrate Christmas eve with his family but when it arrived, it was cold and dry and his children hated it. His two year old son was crying and refusing to eat the turkey, his family was not full or dissatisfied and was very disappointed. Tony was determined that this was not to happen to himself and other families so he established FEAST
Our mission: To elevate the level of catering and serve the most delicious food we can. We want to help our customers create as many happy memories as possible. Be it Christmas, Chinese New Year, birthday parties, or just friends gathering...whatever the occasion, we want to be there for you.
Because we are a Catering Specialist that focuses on customer satisfaction. See our Customer Testimonials
Because FEAST is managed by Drawing Room Concepts and run by our team of highly experienced chefs.>
Our 5000 square feet professional kitchen was specifically designed for catering to ensure the highest level of food quality and hygiene.
Our Commitment to customers:

We promise you a Simple and Convenient catering ordering process with follow up customer service.
We only source traceable, certified and high quality ingredients from the leading food suppliers to ensure food safety.
Food Factory Licence:
2953801549